The Teacher had a special group of students, men whom he had poured three years of his life into as they had lived life together. There was nothing about those students he did not know, their strengths as well as their weaknesses, and how they would react under pressure. Yet he loved them and always would.
Time was short. Not much longer would he be able to impart to them what he wanted them to know. Home was calling him back.
So, they had one last supper together. The Teacher knew that one had already decided to betray him, yet he treated him the same as all the rest. It was meant to be.
After supper, the Teacher stood up and got a towel, basin and pitcher. He wrapped the towel around his waist and then knelt down, and one by one, he placed each student's feet in the basin, scrubbed the foot and then, much like a mother would do, propped the foot on his knee,drying it with the towel that was still wrapped around his waist. What an intimate humbling act for a teacher to do!
That rascally student, Peter, who was always quick with a retort, spoke in wonder, "Do YOU wash my feet?
The Teacher smiled and said, "I know you don't understand now, but one day you will."
Peter insisted, "Teacher, you will never wash MY feet."
The Teacher replied that if he couldn't wash Peter's feet, then Peter could have no part in the Teacher's ministry.
Always one to go "whole hog", Peter did an about-face and wanted the Teacher to wash his head and hands. The Teacher said there was no need for that. They were all clean and only needed their feet washed - well, except for one ...
When all twelve students' feet were washed, the Teacher put away the towel, basin and pitcher and putting back on his robe, he sat down again in his place.
All their eyes looked at him expectantly. "Do you understand what I did?" he asked them.
"You all look to me as your Teacher, as well you should. What I just did is an example for you. You should wash each other's feet, just like I did yours. A student is not greater than his Teacher. You should always do like you've seen me do."
~~~
The greatest Teacher who ever lived, and who lives forever, is Jesus. He came and did life with us for 33 years. While He was here, He taught us about what is important, and what's not important. He taught with words, lecturing in places like synagogues, boat decks and mountaintops. But, He also taught by example, always willing to bless and to heal, letting the crowds come to Him with their overwhelming needs, always putting others first and somehow finding time to spend alone with His Father.
On that fateful foot-washing night long ago, the Teacher gave a new commandment to apply to the life of anyone who calls themselves one of His students:
A new commandment I give to you, that you love one another: just as I have loved you, you also are to love one another.

By this all people will know that you are my disciples, if you have love for one another." John 13:34-35
Students, let's follow His example.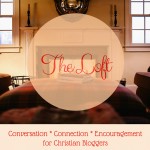 This post is an adaptation of John 13 written for the prompt "Teacher" at The Loft. We'd love to have you join us and tell us your story of a teacher.
I'm also linking with these communities at Arabah Joy, #FreshMarketFriday and Word of God Speak.